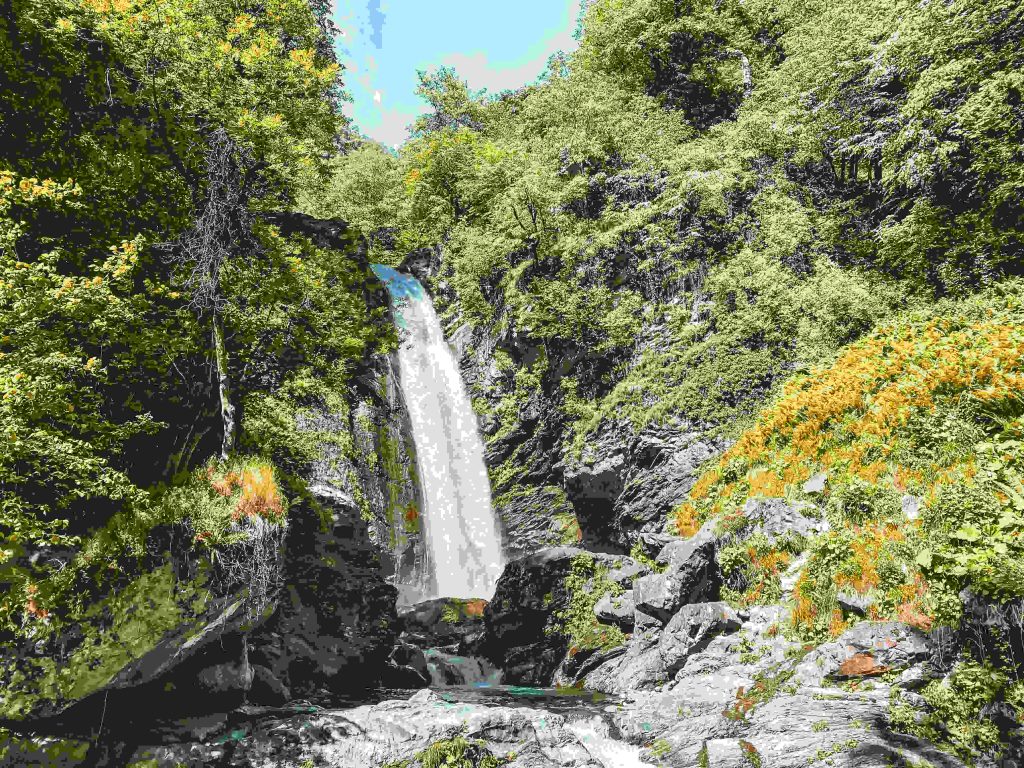 Visit Lagodekhi: 15 Reasons Why.
Visit Lagodekhi: 15 Reasons Why.  Fall in love with its beauty.  Enjoy hiking.  Experience adventure. Taste the flavors of rural richness.  Stay in unique accommodations.  Come up with 15 more reasons to return to Lagodekhi.
1.- Connect with Nature
Visit Lagodekhi National Park! It is the perfect place to connect with nature.  It's untouched forest is one of the most unique of its kind. It is located in the north-eastern edge of the Kakheti Region on the southern slopes of the Caucasus Mountains bordering Azerbaijan and Dagastan (RF).
The protected areas were founded in 1912 and are home to over 1200 animal and plant species.  Over 80% of its 24,000 hectares are categorized as Strict Nature Reserve, which is the highest category for Protected Areas.  If you are a rare fauna and flora lover… you may spot these in the park:   Mlokosevich's beautiful peony flower (Paeonia mlokosiewiczi), Lagodekhi's peony (P. lagodechiana), Primula juliae, Gymnospermium smirnowi).  While, if you are an animal observer or bird watcher, you may spot these in the park: the brown Bear, wolf, lynx, chamois, roe deer, red deer, East Caucasian goat, wild boar or lammergeyer, golden eagle, peregrine falcon, Caucasian snow cock.  For those of you who wish to connect with nature, the forests trees are centuries in age and vary in variety.
---
2.- Visit Lagodekhi's Ancient Machi Fortress
Lagodekhi and Kakheti's most historical trail that will lead you through moss-covered Oriental horn beam woods to the ruins of Machi Fortress. The massive fortress was built over 1300 years ago and stood intact until the 17th century.  The fortress had been used as a summer residence for many Kakhetian Kings. Though lacking its original beauty today, you can still find its remains hidden deep in the forest near Azerbaijani border. The hike begins at the rangers house in Matsimi, village – 7 km from Lagodekhi towards the Azerbaijan border. The trail guides you through a fairy tale-like forest up the gorge of the Bneli Kheoba River. Once there you will walk an additional 10-20 mins, crossing a cute wooden bridge to the ruins of the medieval fortress and a partially renovated small church. Bring your passport, as you may be asked by the Georgian Border Patrol. 
Distance: 10,5 km, Hiking time: 4-5 h, Horseback riding time: 3 h; Difficulty: low-medium
---
3.- Hike through untouched forest to visit Lagodekhi's Black Grouse Waterfall
The trail begins from the Visitor Center at the official entry of the Lagodekhi National Park, located in Lagodekhi.  The trail will guide you near the ever changing Shroma River at the slope of the Ninigori Mountain. As you follow the trail you will cross the river and walk through the old beech forests.  You will also discover other tree species like chestnuts, maple and ash along the way. If you look closely, you may spot a few of the common bio-diversities of the park and discover many other tree species.  Some include: deep green ivy, blackberries, huge black beetles, and a variety of birds. If you are really lucky, you may even spot roes, deer and wild boars. The narrow path ends at the 6 m high Black Grouse Waterfall.
Distance: 10 km, Hiking time: 4-5 h, Difficulty: medium, partially steep and narrow trails
---
4.- Be on top of the world at Black Rock Lake
This is Lagodekhi's most adventurous and adverse hike.  It takes a minimum of three days and is one of the most beautiful hikes in Georgia.   It will take you up to 3000 m and offer you incredible views of the Caucasian Mountain Range and the Black Rock Lake.  At each Meteo cabin, you can sleep in your tent or in self-catering huts. You must bring your own sleeping bag, passport and enough food for 3 days!
This hike is no joke and is recommended only for those who have a true hiking spirit.
First Day:  6-8 hours, 550 m-2000 m, drinking water spring 1 K from hut #1.
Second Day: 4-5 hours, 2000 m-2800 m, drinking water near Black Rock Lake, 1 hour from hut #2.
Third Day: 6-8 hours, 2100 m-550, no drinking water available.  Go back to the lake to refill if necessary.
---
---
5.- Adventure your way to the Great Ninoshevi Waterfall
At 40 m high, this waterfall is a must-see for every nature-lover comes to visit Lagodekhi. The trail begins at the entry in Gurgeniani, a small village that is 11 km from the Lagodekhi center. It can be reached by private car or by taxi.  The trail will guide you through pristine forest along the wild Ninoskhevi river, where you will discover the ever changing stream and thel gorges and pools it creates. The hornbeam-beech forest is especially amazing in autumn when the leaves change their color. You will cross the river several times and eventually climb several rocks.  Be aware, the rocks can be slippery. Once you arrive, take advantage of the Ninoshevi's "cool" water and take a refreshing bath in the natural pools beneath the waterfall.
---
6.- Hop on a horse and enjoy the ride
Horseback riding is a great way to be able to take in the surroundings of the Lagodekhi National Park without needing to walk too much.  All of the above hikes can be done by horseback, but vary in prices. Additionally, from the Khiza village, you can take a shorter horseback riding experience through what the locals have named the "Valley of Horses".  It is located between two mountain slopes of the protected areas in the valley, heading in the direction of the trailhead for the Ninoshevi Waterfall. This area is unique, as it somehow feels like it shouldn't be where it is the way that it is.   It's very pretty.
---
7.- Bird watching and animal sightings at its best
From the beginning of spring until the end of fall, the Lagodekhi National Park becomes a concert of many different species of birds.  As you walk through the forest, it is as if you are their guest. Each month brings different species, small and big. All are unique in their sounds, habits, and colors.  During the beginning of spring, one can hear the calls of the coo-coo bird from one side of the forest to the other. Or the owls communicating in the night. If you are lucky, you may spot one of the large birds of prey.  As for some of the birds you may come across: bearded vulture, eastern imperial eagle, golden eagle and steppe eagle.
---
8.- Join the locals and make something tasty
Learn to make an authentic Georgian meal or treat, alongside a local host in their private home. Whether you want to learn how to make wine, harvest honey, dive into a hot tone to place fresh bread to bake, dip strings of nuts into a gooy grape mix, or get involved in creating homemade Georgian food – this is a great way to support rural tourism and development in the Lagodekhi region.   
---
9.- Cheers to locally brewed "ludi" beer
There is nothing like a well prepared ice cold beer.  Especially, when it is made with Lagodekhi water. Visit Lagodekhi's newly opened Apeni Brewery.  They are brewing craft style beers by incorporating locally sourced ingredients, such as honey, to create unique flavors. The brewery offers beer tasting and a restaurant with a tasty beef barbecue.
---
10.- Sunbath by the Ninoshevi River
The Ninoshevi river offers an awesome opportunity to sunbathe.  During the summer months, along the river, the locals build natural pools by stacking tons of river rocks and covering them in plastic.  If you are around the river towards the end of June, lend a hand and help out in creating these pools. Or make your own private pool. Though a bit chilly when you first get in, with the summer heat it is an ideal way to cool off and enjoy the beautiful forest that surrounds you.  If you go in the morning – before 13:00 – and after 20:00 – these are the best times to enjoy a more quiet peaceful environment. If you would like to join the locals for afternoon drinks, food, a fun conversation, and a lot of people – between 15:00 – 19:00 – is your best bet. 
---
11.- Catch your own meal and BBQ it
There are two man-made fishing ponds in Lagodekhi.  One offers trout, while the other offers carp. Get yourself to the village, Heretiskari in the Lagodekhi region and enjoy a day of fishing, bbq, and wine.  Here, there are also small cabins for rent.
---
12.- Pick fresh berries and mushrooms as you hike
In late summer, one of the most rewarding times to hike is when you are able to pick blackberries along the way. The best picking season for blackberries and mushrooms begins from late July to early October. These are great in your morning yogurt or stewed up for your afternoon Kinkahli cooking class with a local family. Remember: take care when picking berries and fungi, as some varieties are poisonous. If you are not sure, you can ask a local for advice. 
---
13.- Visit Lagodekhi's Visitors Center for a great chat
Every trip to Lagodekhi should include a conversation with Sandro.  He is an important part of each visitor's visit to the National Park.  You can find him in the visitor's center where he can inform you about all the hikes and interesting tips about the Lagodekhi National Park.  Not only a wealth of knowledge, but kind and willing to chat about almost anything.  
---
14.- Good vibes and live music at the Blue's Fest
International Blues Festival is an annual Lagodekhi event that started in 2017. Performers are well-known musicians such as: Sharon Lewis (USA), Shanna Waterstone (France), Sobo band (Israel), Steve Morrison (GB), Matt Taylor (GB), Baron Goodlove (GB), Wolf Mail (CAN) and The King of Moscow Blues (RUS) as well as all active Georgian Blues Bands. The festival begins mid  June and ends mid August. Concerts take place every Saturday at Blues Village in the upper part of Vashlovani Street. www.bluesfest.ge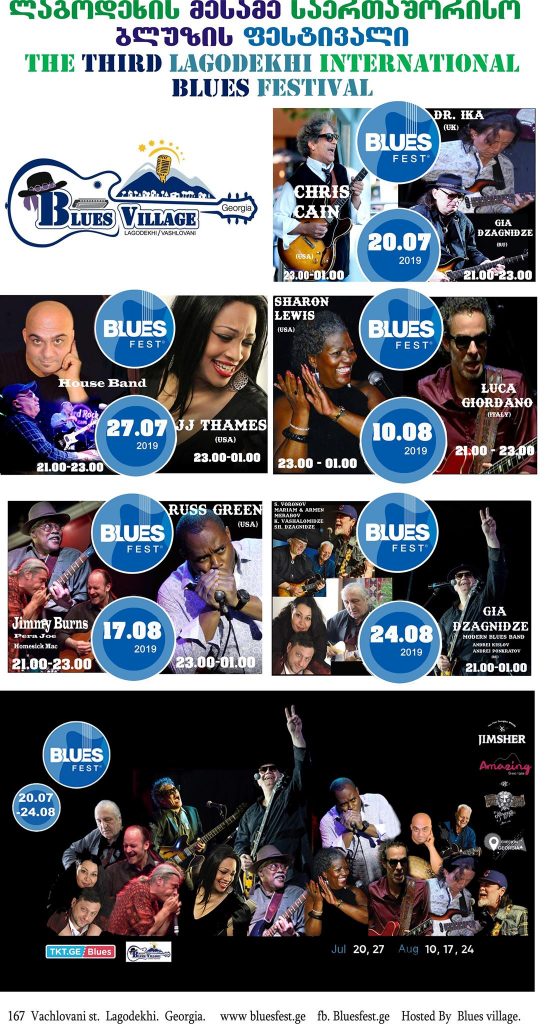 ---
Located in the village, Khiza, Duende Hotels offers a magical place to disconnect from everything man made and connect with all things nature.  From the luxury treehouses with your own private jacuzzi, a communal Latin American sweat lodge, river side bathing, direct access to the national park – to the locally sourced Barbecoa Restaurant.. It's a place of inspiration and passion one must enjoy.  www.duendehotels.com